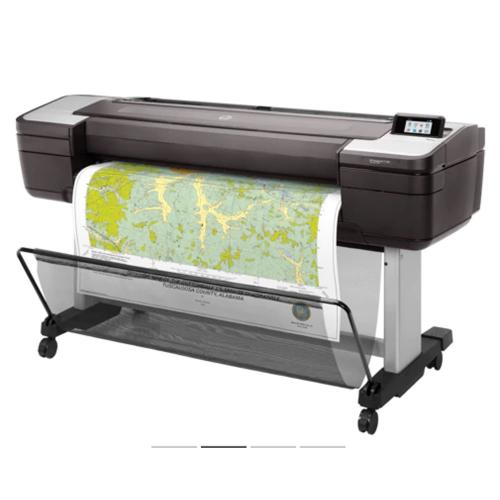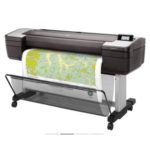 HP DesignJet T1700 dr 44-in Printer ( W6B56A )
HP DesignJet T1700 dr 44-in Printer adalah penggatin type dari HP DesignJet T795 44-inch.
HP DesignJet T795 adalah printer best seller pada masanya dan untuk meningkatkan performan mesin dan seiring perkembangan berbagai macam dan besaran file yang di transfer ke printer, oleh karena itu HP megeluarkan HP DesignJet T1700 series. Printer ini hanya memiliki 1 Printhead untuk semua warna.
Kami Juga menyediakan Rental Plotter / Sewa Plotter
Harga Plotter A0 Terbaik
Distributor HP Plotter / Distributor plotter HP
Jl. Raya Pasar Minggu KM.18,2 NO. 8D RT.012  RW.01 KEL Pejaten Timur
KEC. Pasar Minggu Jakarta Selatan . Kode Poss 12520.
Phone                : 021 7918 8468/7917 0035
Consultant     : 0812 1890 2322
Description
SPECIFICATION
Description
HP DesignJet T1700 dr 44-in Printer  ( W6B56A )
The most secure, empowering HP DesignJet printer for CAD/GIS workgroups
Protect your work from external attacks
Membuat anda lebih tenang karena  dapat  mengetahui bisnis  anda aman dari serangan dan malware, dengan fitur perlindungan canggih seperti HP Secure Boot Technology dan Authentication Solutions termasuk pencetakan menggunakan PIN .
Handle high volumes of data with no delays or crashes
Dengan kekuatan pemrosesan hingga 128GB Memori , 500 GB HDD dienkripsi mencetak mencapai 116 A1 / D pgs / jam dan fitur seperti HP Click Printing  dan Adobe PDF driver,nikmati alur kerja yang lebih lancar, bahkan ketika menangani sejumlah file – file besar.
Superior precision for better decisions
Dapat memberikan warna yang tepat dan menjaga keakurasian garis CAD drawing dan GIS,  file pemetaan yang kompleks dengan  6 warna,HP Bright Office Inks and High-density printhead menyediakan 2400 dpi, memungkinkan Akurasi garis 0,1%.
Speed Print
180 A1/hr, 19.3 sec/A1
Spindle
Single Roll
Print Resolution
Up to 2400 x 1200 optimized dpi
Technology
HP Thermal Inkjet
Ink Types
Dye-based (C, M, Y, pK, G); Pigment-based (mK)
Printheads
1 universal printheads (valid for all colors)
Gramage 60 up to 328grm
Line accuracy ± 0.1%
Aplications Line drawings; Maps; Orthophotos; Presentations; Renderings
Thickness Up to 0.8 mm (31.5 mil)
Memory 128 GB (file processing)
Hardisk 500 GB self-encrypting
Connectivity Gigabit Ethernet (1000Base-T), supporting the following :TCP/IP, BootP/DHCP (IPv4 only), DHCPv6,TFTP (IPv4 only), SNMP (v1, v2c, v3), Apple Bonjour Compatible, WS Discovery, Embedded Web Server (HTTP, HTTPS), IPsec, SMTP (email), Raw IP printing (9100), LPD, IPP, WS print, NTLM v2, SMBv3, SSL/TLS, 802.1X authentication (LEAP, PEAP, EAP-TLS), DFS
Security features HP Secure Boot, Whitelisting, TPM, Role Based Access Control, LDAP and Kerberos authentication, SNMPv3, HTTPS, Secure-IPP, IPsec/Firewall, Certificates management, 802.1X, TLS 1.0/1.1/1.2, HP Web Jetadmin compatible, HP JetAdvantage Security Manager compatible, Secure Disk erase (DoD 5220.22-M), Secure Fileerase, self-encrypting HDD, encrypted PIN printing, Syslog security logging.
Print Languages Adobe PostScript 3, Adobe PDF 1.7, TIFF, JPEG, CALS G4, HP-GL/2, HP-RTL
Dimensions (w x d x h) Printer 1390 x 760 x 1080
Shipping 1477 x 767 x 800 mm
Power Consumption 100 W (printing); < 36 W (ready); < 1 W (< 10 W with embedded Digital Front End) (sleep); 0.3 W (off)
Security features HP Secure Boot, Whitelisting, Role Based Access Control, SNMPv3, HTTPS, Secure-IPP, IPsec/ Firewall, Certificates management, 802.1X, TLS 1.0/1.1/1.2, HP Web Jetadmin compatible, HP JetAdvantage Security Manager compatible, Secure isk erase (DoD 5220.22-M), Secure File erase, self-encrypted HDD, PIN
printing
What's in the box HP DesignJet T1600 Printer, printer stand and media bin, spindle(s) , printheads, introductory ink cartridges, user guide, power cords